Skip to Content
How Does a Concrete Wire Saw Work?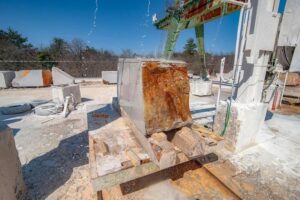 When it comes to cutting concrete, nothing beats the accuracy and precision of a wire saw. Wire saws use diamond-tipped blades to quickly and easily cut through even the toughest concrete. Read on to learn more about how and why concrete wire sawing is the best method for a safe and efficient concrete cutting project.
What is a Concrete Wire Saw?
A concrete wire saw is a power tool that uses a diamond-coated wire to cut through concrete, stone, and other hard materials. The saw is composed of a motor, a drive wheel, and a cutting wheel. The cutting wheel is mounted on a frame that can be adjusted to different angles.
How Does a Concrete Wire Saw Work?
The operator feeds the diamond-coated wire into the cutting wheel and starts the motor. The spinning cutting wheel quickly cuts through the material. Depending on the type of saw, the operator may need to apply pressure to the handle or trigger to keep the saw moving forward. Some models have an automatic feed that advances the wire as it cuts.
What is the Purpose of a Concrete Wire Saw?
Wire saws can be used to cut through concrete walls, floors, slabs, and other thick materials. They are often used in demolition projects or to make openings for doors, windows, or vents. Wire saws can also be used to cut pipes, rebar, and other metal objects embedded in concrete.
What Are the Benefits of a Concrete Wire Saw?
There are many benefits to using a concrete wire saw, including:
Increased accuracy: A concrete wire saw allows you to make very precise cuts in concrete and other materials. This is because the diamond-coated wire is much thinner than traditional power saw blades.
Better safety: Using a concrete wire saw is much safer than using a traditional power saw. This is because there is no kickback or blade bind when cutting with a wire saw.
Improved efficiency: A concrete wire saw can cut through material much faster than a traditional power saw. This is because the wire can slice through the material rather than just tear it apart.
More versatility: A concrete wire saw can be used for a variety of applications, including cutting concrete slabs, pavers, bricks, and blocks; as well as removing mortar from between bricks.
Reduced noise: A concrete wire saw produces much less noise than a traditional power saw since the diamond-coated wire cuts through the material without producing any vibrations.
What Are Some of the Problems or Precautions of Using a Wire Saw?
When using a wire saw, it is important to wear proper safety gear, such as gloves, goggles, and a dust mask. The operator should also be aware of the potential for kickback from the saw. Kickback can occur if the cutting wheel becomes jammed or if the material being cut is too hard. To avoid kickback, the operator should keep the saw moving forward and not apply too much pressure. Properly using a wire saw requires extensive training. To protect the expensive piece of equipment and for safety, it's best to hire an expert.
Why Use Ashton's Wire Sawing Services?
Ashton Sawing & Drilling has been in the business of providing top-quality wire sawing services to Texas and Louisiana, for over 20 years. We've seen it all and know how to get the job done right, no matter what the challenges may be. Here are just a few reasons why you should use Ashton's wire sawing services:
We have the experience and expertise to handle any wire sawing project, no matter how big or small.
We use state-of-the-art equipment to ensure that your project is completed quickly and efficiently.
We offer competitive rates that will fit within your budget.
We are fully insured and bonded, so you can rest assured that your project is in good hands.
We are committed to providing excellent customer service from start to finish.
If you need wire sawing services, there's no one better to trust than Ashton Sawing & Drilling. Contact us today for concrete services you can rely on!