Skip to Content
Drastically improve the look of your business or home with stained concrete floors. Staining allows for a unique look using rich dark colors that can be diluted and are fade-resistant. It's the perfect option for someone who wants to make a bold design statement or wants something natural but unique to their home or business.
Ashton's qualified staff of technicians has provided expert staining services to the residents of Houston for over 15 years. When we come to your home or business for your free estimate, we will examine your floors to determine which options are right for you and suggest the perfect stain to enhance your floor's appearance.
Stained Floors Can Be Achieved Using a Four-Step Process
Preparation
Whether you are staining new or old concrete, thorough surface preparation is essential. Any residue remaining on the surface of the concrete is likely to be visible through the newly-applied stain. When done properly, this step dramatically impacts the finished appearance.
Application
All stains are different, and the mixture and dilution need to be exact or the outcome may not meet expectations. Once your product is ready, it is applied using various techniques to ensure the desired effects.
Clean-Up
Getting your floors ready for the final step usually consists of a clean water rinse, neutralization if using acid stains, and a loose scrub.
Protection
A sealer will be applied to protect your newly-stained floors. The type of sealer chosen will be based on various factors such as usage and location.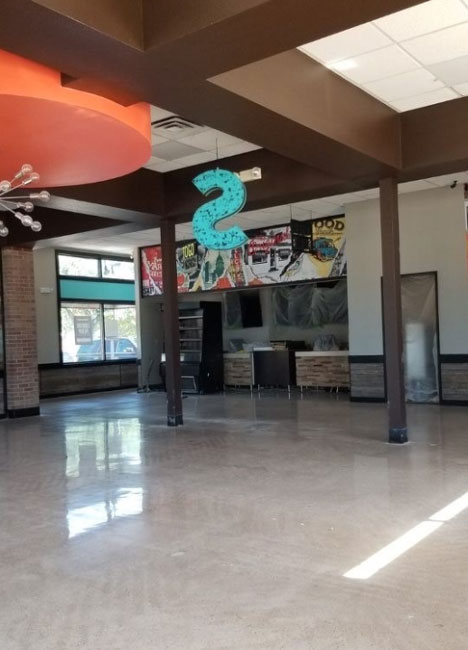 Beyond Aesthetics, Detailed Benefits of Ashton's Stained Floors Include:
Multiple stain options for limitless colors and designs
Adheres well
Quick to apply and return to service
Ages nicely
Works well on new floors and old ones
Indoor and outdoor uses
As the region's staining expert, Ashton's goals are simple: create a unique and striking floor that will transform the look of your space and use materials that are reliable and strong.
Increase the Appeal of Your Floors with Decorative Sawing
Decorative sawing, better known as deco sawing, is the process of sawing a pattern into a concrete floor. Deco sawing is commonly used in addition to stain for an even more unique aesthetic. This additional step adds depth and texture to the look of your stained floors and can even mimic the look of more expensive flooring such as stone or marble.
Get a Free Estimate Today!