Skip to Content
Serving a Wide Array of Customer Concrete Needs
Ashton Sawing and Drilling serves Texas and Louisiana clients in Dallas, Houston, Baton Rouge, and New Orleans, but we also offer our services to clients nationwide. Our company specializes in comprehensive concrete services to complete projects with exceptional work quality and timely performance. You can count on us to finish the job correctly every time, using large fleets of the newest equipment. We have offices in Houston, Dallas, and Louisiana, ready to respond to various project needs involving concrete. For 20 years, our business has grown into one of the Gulf States' largest and most trusted commercial concrete service companies. Our extensive professional experience makes us the experts, providing the best possible services. Clients are our top priority, and we meet every need with outstanding care and professionalism. You can trust us for unbeatable concrete solutions.
Specialists in Concrete Sawing & Drilling
Concrete sawing and drilling are tasks you should leave to well-trained professionals to get the best results with timely, quality work. Ashton Sawing and Drilling specializes in sawing and drilling concrete with a broad range of services covering all your specific needs. We customize our services to your unique project to ensure there's less waste and time spent completing it while maintaining high levels of work quality for better aesthetics, durability, and longevity. You can rely on us to perform slab sawing, core drilling, load and haul, concrete GPR scanning, and several other essential tasks. We have an eye for detail and an uncompromising commitment to providing unmatched service quality. Below, you'll find descriptions of each of our specific concrete sawing and drilling services: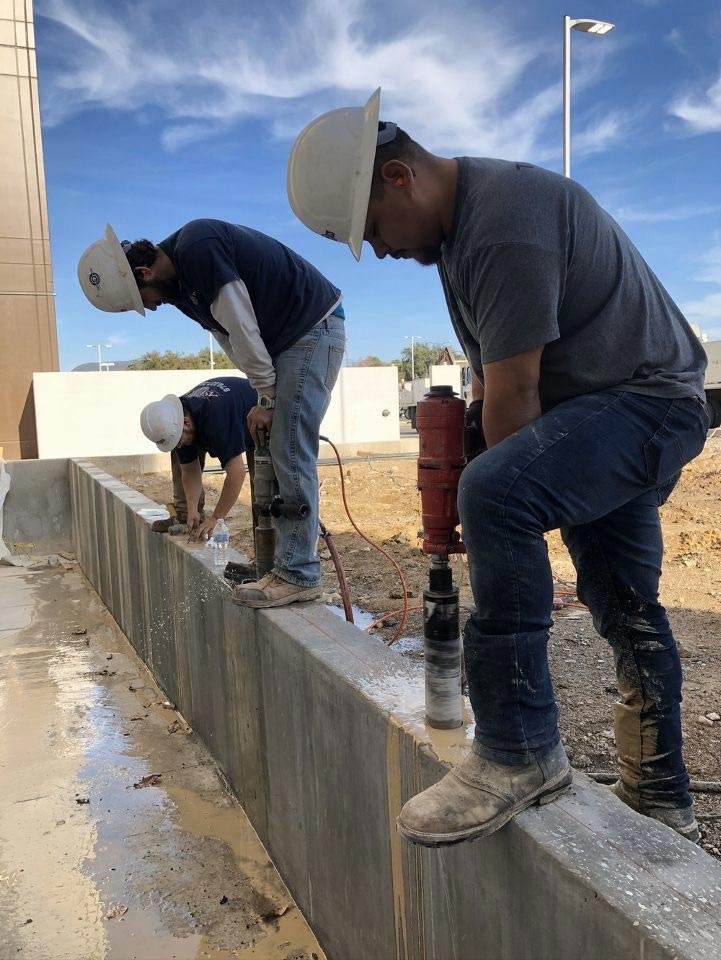 Our team of concrete specialists uses electric and diesel saws to perform slab cutting on various structural projects, including roadways, rooftops, high-rise office buildings, and plumbing or electrical trenches. Slab saws are large and powerful tools that saw large areas in a short time for tasks like expanding a joint, removing damaged concrete, or installing a staircase.
We cut concrete on vertical surfaces to create door and window openings in existing concrete walls or remove large concrete panels. Our team can complete the most challenging jobs, cutting concrete as deep as two feet using our three-phase, 480-volt electric wall saw. This service applies to beam cutting, remodels, panel removals, and other needs.
You can count on us to perform wire sawing on various structures, such as bridges, columns, steel rebar, circular cutouts, pillars, and heavily reinforced concrete. Ashton Sawing and Drilling has several wire saws to complete this service, including our specialized Pentruder circular wire saw to perform round cutouts, vertical, and horizontal cuts with nearly limitless cutout sizes. We cut large, thick concrete in spaces with dangerous conditions, high heights, and tight spaces.
Ashton Sawing and Drilling uses various 14 to 16-inch hand saws, including gas and electric chain saws, ring saws, and double-cut saws. With these saws, we can cut depths of five to 10.5 inches. Hand sawing may be necessary if your concrete project has job limitations or site conditions making larger saws unusable. We can use hand saws to make small cuts or cut for shallow depths, curb removal, narrow access, concrete chipping, sidewalks, corners, and cleanup.
Core drilling lets us drill cylinder-shaped holes in concrete to remove a core at any depth. Plumbing, mechanical, and electrical contractors rely on this service, and it applies to transportation and architecture professionals for pressure testing by creating holes in existing structures. We can create holes between1/2 inch and 54 inches or larger using handheld and base mount core drills to accommodate phone lines, sprinkler systems, railing posts, HVAC ducting, and many other options.
This demolition technique uses a robotic hammer controlled by an operator remotely and breaks the strongest concrete, even in hazardous environments. Robotic breaking completes jobs up to 10 times quicker than traditional methods on applications like bridge demolition, excavation, high-rise demolition, interior demolition, and dismantling floor, ceiling, and wall slabs. Our equipment includes a DXR 140 (the most compact), DXR 270, and DXR 300 (the largest) that carries up to a 400g workload.
We effectively break and remove large concrete plots with our large fleet of dump trucks, drop hammers, and hydraulic breaking tools like minis, bobcats, and excavators. Our breaking and removal services apply to various project situations, including foundation demolition, driveway removal, beams and footer removal, and parking lot removal.
Ashton Sawing and Drilling successfully handles load and haul projects at large outdoor sites and those with challenging conditions like tight access and elevated projects. We quickly clean up broken concrete and haul it away using excavators, bobcats, and dump trucks.
Before starting a demolition job, you need a concrete GPR scan to locate vertical and horizontal targets in the concrete. We can also detect substructures like grade beams, and our scanning penetrates depths from zero to 10 inches using the most advanced GPR on the market. Before concrete sawing, cutting, core drilling, or robotic breaking, let us scan your concrete.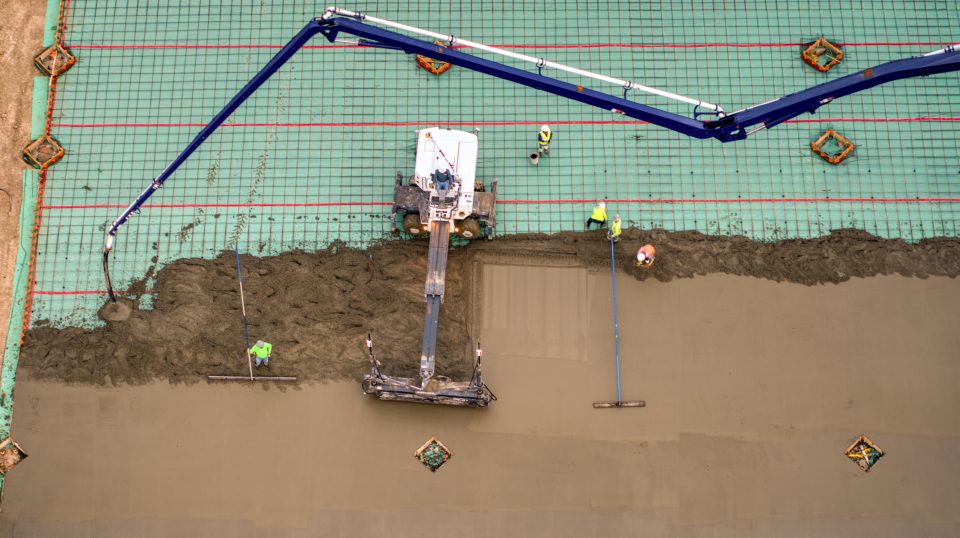 Comprehensive Concrete Placement Services
At Ashton Sawing and Drilling, we have ample experience working on commercial and industrial concrete projects. We have become a reliable partner to clients, performing every job right the first time while tackling jobsite challenges as they happen with real-time solutions. Concrete placement involves depositing, distributing, and consolidating fresh concrete in a place to harden. Our company offers several service options to clients, including site or structural concrete, foundations, and specialty concrete placement. We are a concrete company with a proud history of success. We've described our concrete placement services below for you to consider:
Our concrete specialists have performed site concrete placement for many applications, such as curbs, paving, sidewalk, head walls, retaining walls, wing walls, pilot channels, and light pole foundations. We use the latest equipment and premium-quality concrete to ensure the best possible results.
Ashton Sawing and Drilling uses our fleet of equipment and expertise in special conditions like elevated structures, job site clearance, safety records, and specialized certifications for structural concrete. Let us handle your structural concrete placement needs with slab on deck, concrete forming, cast-in-place slab, cast-in-place walls, cast-in-place roof, and beams.
Concrete foundations require reliable placement to ensure their quality, and we have over 10 years of experience laying foundations. Our crews have created over 10 million square feet of strong, reliable foundation. We provide clients with various foundation services, such as grade beams, stem walls, elevator pits, slab-on-grade, drilled piers, slab-on-metal deck, and footings.
Ashton Sawing and Drilling is an ideal partner for specialty concrete projects in government and industrial locations because of our experience, certifications, and safety record. We have handled many specialty services in various locations, including Ellington Airfield, Port Authority, nuclear power plants, and rail yards.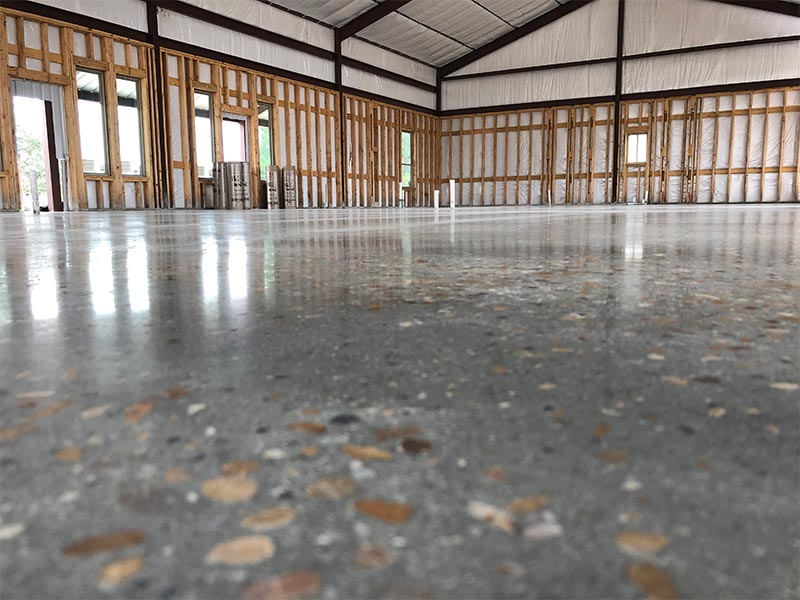 Polishing & Coatings for Attractive & Durable Concrete
You can trust Ashton Sawing and Drilling to handle your concrete polishing and coatings with exceptional care and commitment to top-quality results. We've spent the past six years making our polishing and coatings division a focus to better serve clients with industrial and commercial concrete flooring. Our clientele includes professional locations in industries like manufacturing, healthcare, transportation, residential, restaurants, and small businesses. We stick to one budget, one timeline, and one contact to simplify your experience by reducing contacts, timeline changes, costs, and jobsite hiccups. Our concrete polishing and coating services include the following:
Concrete Polishing
We can polish concrete at many types of commercial and industrial sites, such as office buildings, restaurants, retail stores, warehouses, and residential properties. Our crew uses high-tech grinding machines to flatten your floor and rid it of grout, glue, and other unwanted substances. Then, we refine the floor, densify it with a chemical application to fill your concrete's pours, and finally polish your floor with different refinement levels available.
Staining (Topical Sealers)
Stains or topical sealers can drastically improve the look of your business or home's floors. We start with thorough surface preparation and cleaning it with a water rinse, acid stain neutralization, and loose scrub. After that, we apply a stain to the floor and protect it with a sealer. Staining gives your concrete floor a unique look with rich, dark, fade-resistant colors we can dilute. Our crew will select the right sealer for your newly stained floor depending on its usage, location, and other factors.
Coatings
Sealants, epoxy, and many other concrete coatings can help your floor stay smooth, make it easy to clean, improve its aesthetic appeal, and help it withstand chemical spills and heavy loads. These coatings are popular to use in garages, rec rooms, art studios, backyard sheds, and game rooms. Ashton Sawing and Drilling offers various coating options, including water or solvent-based epoxy, epoxy mortar, quartz, flake, antistatic, vapor barrier, metallic, and terrazzo.
Decorative Sawing
Professionals also call this service deco sawing, which involves sawing patterns into concrete floors. The process helps with cracking and can utilize several designs to conceal floor joints and improve a floor's aesthetic appeal. Decorative sawing can make your concrete look like wood planks, tiles, and other flooring types or give your floor a more artistic touch with diamond patterns, circles, curves, and arcs. This service adds depth, texture, and interest to concrete floors.
Floor Prep
Over time, unwanted substances like glue and grout can cover concrete floors, and other signs of wear are common. Ashton Sawing and Drilling offers several floor prep options to restore your concrete's appearance and condition. We perform grinding, shot blasting, scarifying, pressure washing, auto-scrubber cleaning, overlay, and underlayment.
Ashton Sawing and Drilling Is Ready to Help
Ashton Sawing and Drilling is ready to serve your project needs with our comprehensive concrete services in Texas, Louisiana, and nationwide. Let us show you the difference decades of versatile concrete experience make in service quality and client satisfaction. Contact us today to discuss your project with our team.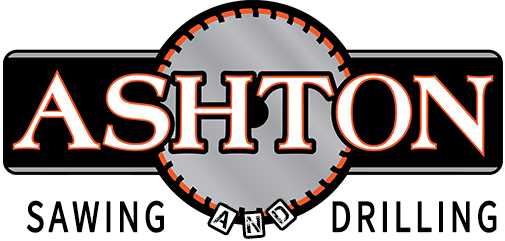 Get a Free Estimate Today!