Skip to Content
Robotic breaking is a demolition technique that allows an operator to remotely control a robotic hammer. Remote operation and the robot's small size and agility allow it to safely and efficiently access demo sites that are dangerously located or in tight quarters, ones that could never be accessed by traditional equipment. Ashton Sawing and Drilling is the highest-skilled and most efficient partner for your robotic breaking needs. We have mastered this new technology and have maximized breaking of the strongest concrete, worked effectively in hazardous environments, and can complete a job up to 10 times faster than traditional methods. Our robotic hammer technicians have excelled at rigorous training and safety exercises to join the elite team that operates this equipment.
In addition to meeting your demolition needs quickly and safely, we can access any job site with minimal disruption, meaning business can carry on as usual while we are at work.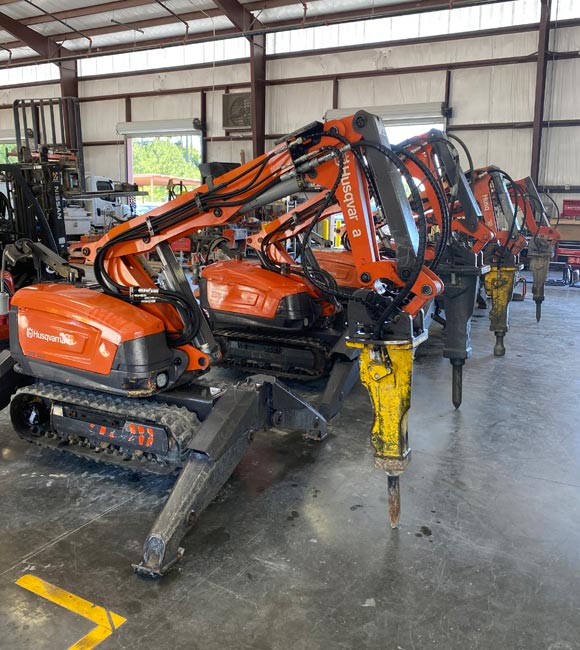 Applications
Floor, ceiling or wall slab dismantling
Bridge demolition
Highrise demolition
Confined spaces
Interior demolition
Excavation
Tool Shop
Ashton Sawing and Drilling's versatile fleet of robotic hammers include three DXRs which are smaller than traditional hammers but extremely powerful and especially effective in tough environments. This wide range allows us to meet your needs on any jobsite – from the DXR 140, which is the most compact, to the DXR 300, which can carry up to a 400g workload. Ashton Sawing and Drilling's robotic hammers do not use diesel or propane motors, which makes them safe to use within occupied buildings.
DXR 140
The smallest of Ashton Sawing and Drilling's fleet is perfect for cramped spaces where the job requires maneuverability and power
Features a 360-degree rotatable arm
DXR 270
With a high power-to-weight ratio, Ashton Sawing and Drilling uses this hammer on job sites with low ground pressure or limited lifting possibilities
Individually-controlled outriggers and a large footprint provide maximum stability
DXR 300
The largest and most adaptable of Ashton Sawing and Drilling's fleet, the DXR 300 can fit through most doors, climb up stairs, and move over debris, making it perfect for jobsites with limited access
With its fixed arm, the DXR 300 provides precise positioning
Get a Free Estimate Today!