Skip to Content
Covering Your Foundation Installation & Repair Needs
When investing in any concrete work, reliability is one of the most important factors you should look for in a service provider. Ashton Sawing and Drilling specializes in comprehensive concrete services, and we have over 20 years of history providing clients with the most reliable work on their projects, including foundations. Concrete placement is a common building need on nearly any structural project. Our crew has extensive expertise in performing pier and beam foundation services, including installation and repairs. We have laid a total of over 10 million square feet of strong, reliable foundations over the past 10 years. Let us build your concrete project from the ground up by starting it with a top-quality foundation.
Invest in Quality With Our Foundation Services
Ashton Sawing and Drilling takes pride in our timely performance and top-quality work on every concrete project. We're one of the industry's largest and most trustworthy service providers because we built our business on uncompromising work quality and professional integrity to reduce costs, hiccups, timeline changes, and other troublesome project details. If you have an industrial or commercial project involving a foundation, you can rely on us to complete your concrete work with the utmost care and dedication to creating a strong, reliable foundation.
Our company has versatile expertise in foundations and can perform the following foundation services:
Slab-on-Metal Deck
Slab-on-Grade
Drilled Piers
Footings
Stem Walls
Grade Beams
Elevator Pits
Cast in Place Walls
Head Walls
What Is a Pier and Beam Foundation?
Generally, a pier and beam foundation has cement or concrete block exterior walls and interior piers supporting a structure's wood floor joists and support beams. Underground is a concrete footing anchoring the entire foundation to prevent shifting in volatile soils. This foundation type is common in homes featuring crawl spaces. Ashton Sawing and Drilling may install a pier and beam foundation as an ideal choice when building a structure on uneven land, in a location with regularly expanding and contracting soil, and where flooding is a potential problem. Many areas around Texas, Louisiana, and throughout the nation have these issues when developing structures for commercial and industrial use. Our crew can handle your pier and beam foundation design, spacing, leveling, and other project concerns. If you need a pier and beam foundation for an addition to your structure, we can integrate it so that it's perfectly level with your existing structure and accommodates your new construction.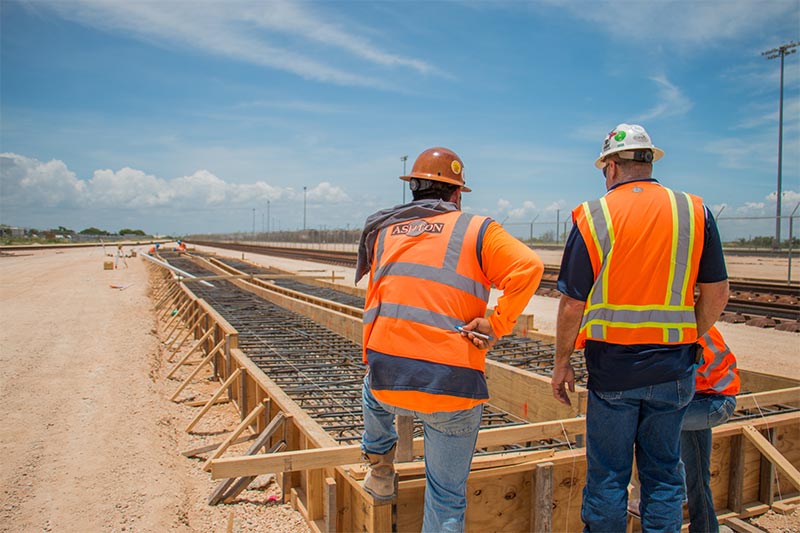 Pier and Beam Foundation Build & Repair Process
A pier and beam foundation will cost $8 to $15 per square foot, so you'll pay between $16,000 and $30,000 to build one for a 2,000-square-foot floor. When investing in a pier and beam foundation, you should always choose a concrete specialist with licensing, training, and experience in this foundation type. The installation process starts with using the floor plan to determine where piers need to go and then digging holes for the piers. After placing the piers in the holes and anchoring them in place, we backfill the holes. Next, we build an interconnected, level grid of beams, onto which the construction team will build or place the joists and subfloor. Repairing a pier and beam foundation may include stabilizing the ground before replacing or rebuilding a pier. After repairs, we verify the piers and beams are level to ensure the structure stays in optimal condition.
Benefits of Pier and Beam Foundations
Ashton Sawing and Drilling recommends pier and beam foundations for various structures for many reasons. You can save money with the process, enjoy a quicker installation, and minimize your impact on the surrounding landscape. Commercial and industrial structures use pier and beam foundations because of their advantages. Our company quickly and carefully installs and repairs this foundation type with the utmost concern for work quality and long-term results.
We've described several benefits a pier and beam foundation offers:
It's less expensive than most other foundation types.
Building it is quicker and easier when compared to other foundations.
It causes minimal disruption to the ground and vegetation surrounding your worksite.
This foundation elevates a structure when the ground is uneven.
Plumbing and electrical repairs and installation are easier in the provided crawlspace or open access.
You get less ground vibration transfer.
It's easy to connect decks and additions.
We can construct this foundation type in most soil and rock formation types, including underwater.
Why Choose Ashton Sawing and Drilling for Foundation Work?
You can entrust your foundation work to Ashton Sawing and Drilling for many reasons. We have over 20 years of experience performing a broad range of concrete services, and concrete placement is a specialty our crew provides. Our company has built itself into one of the area's largest and most trustworthy concrete service providers because of our consistent client satisfaction and commitment to timely, convenient service without compromising work quality. We use state-of-the-art tools and equipment to ensure our crew has everything they need to complete projects correctly the first time without frequently changing our timeline or drastically affecting the cost.
Having one contact for each phase of your project helps you stay on time and on budget. Ashton Sawing and Drilling are skilled in every facet of concrete, from sawing and drilling to placement. We can handle everything from site work to structural projects and even decorative or protective concrete finishes.
In 2020, Ashton completed the UPS Bryan project including site work, and structural foundation
Contact Us for Service in Texas & Louisiana
Ashton Sawing and Drilling considers every client's project an opportunity to show our best work and make their concrete investment worthwhile. We offer outstanding options like pier and beam foundations in Texas, Louisiana, and nationwide if you need a foundation for your commercial or industrial structure. Contact us today to start your concrete project.
Get a Free Estimate Today!