Skip to Content
Concrete coatings, such as sealants and epoxy, are popular choices for floors that need to be smooth, able to withstand heavy loads and chemical spills, easy to clean, and aesthetically-pleasing. Epoxy will stand the test of time and is almost limitless in its design choices and applications.
At Ashton Sawing and Drilling, we provide industrial epoxy coatings that are safe, durable, long-lasting, and ideal for residential settings. Their durability and aesthetic make them perfect for residential garages, art studios, or rec rooms where you need a surface that is stain-resistant, non-slip, and easy to maintain.
Spend a lot of time in the garage or own an automotive shop/showroom? Working on cars or motorcycles? Epoxy is also chemical-resistant and easy to clean.
Big sports fan? Consider team colors for your garage or rec room floor!  Or consider your business's brand colors. Epoxy comes in a variety of colors that can range from natural, neutral finishes to bright and sporty.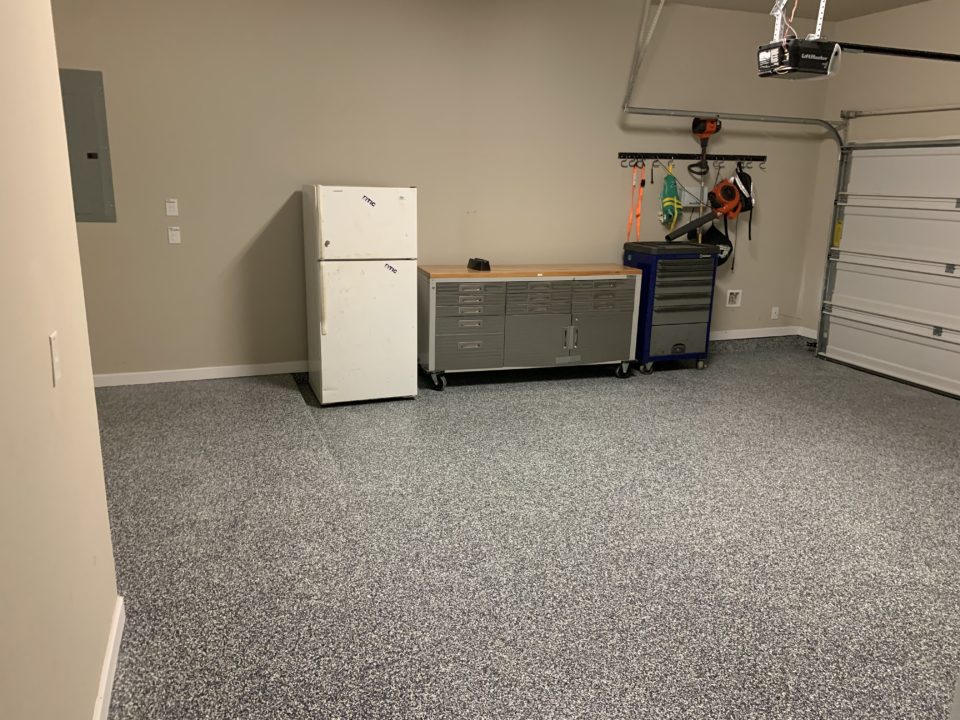 Types of Coatings
100% Solids Epoxy
Water Based Epoxy
Solvent Based Epoxy
Epoxy Mortar
Flake
Quartz
Metallic
Terrazzo
Antistatic
Vapor Barrier
Popular Residential Uses:
Garages
Art studios
Rec rooms
Game rooms
Backyard shed
These Coatings Are Also Often Used in Industrial Settings:
Banquet halls
Bowling alleys
Grocery stores
Nursing homes
Auto dealerships
Veterinary clinics
Commercial kitchens
Manufacturing facilities
Food processing plants
Restaurants
Warehouses
Logistics facilities
Q&A With Ashton Sawing and Drilling's Flooring Expert
What do you want home and business owners to keep in mind if they are considering a floor coating?
Options, options, options! I would encourage anyone getting a coating to determine all the possible uses for the space, which we are glad to help with.  Different coatings and coating systems offer different strengths and weaknesses – you don't want to install a coating to find out later that it may not have been the right one. Ashton Sawing and Drilling has a lot of experience helping customers weigh all their options and land on the perfect coating for their floors.
Why would you recommend Ashton Sawing and Drilling over some other companies or even a DIY approach for floor coatings?
Ashton Sawing and Drilling takes exceptional pride and care in not only the application process, but also the preparation process. The coating is only as strong as the surface to which it is stuck. We utilize the highest-skilled applicators and use only the best equipment to ensure that your floor is installed properly and permanently.
Get a Free Estimate Today!